The Acknowledgment of Consents commonly referred to as the AOC, is our regulatory event of the year.
The AOC is the permission granted by the U.S. EPA to Temarry Recycling, Inc., to export RCRA regulated hazardous waste to our facility in Tecate, B.C. Mexico.
As quoted from the permit, "This letter serves as the Acknowledgment of Consent (AOC) for EPA notice ID 011154/IE/15 for the following waste streams." It goes on to enumerate the RCRA waste codes that we are able to export on behalf of our clients.
For the last 2 years we have been able to expand our permit by getting more codes approved. This year was no different. We were able to add an additional 15 waste codes. These include all of the RCRA metal codes except mercury. It also includes numerous U codes and F001.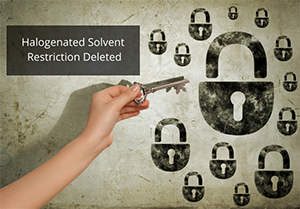 Most important to many of our clients will be the deletion of the halogenated solvent restriction. In the past we have only been able to export flammable solvents that contained some amount of halogens.
After several discussions with the EPA we agreed that exporting spent halogenated solvents is in harmony with the Montreal Protocol that restricts the movement of virgin halogenated solvents across international borders.
The most common solvent that we have been requested to export for recycle is Methylene Chloride (syn. Dichloromethane). The solvent portion of the waste will be recovered by distillation and be sold back into industry for continued use.
The energy required to operate our recovery stills will continue to come from our onsite Waste to Energy thermal processing.
By thermally treating rags and debris at 1500F we generate steam to power the recovery stills. The Temarry "True Recycling Closed Loop System" is the only facility serving the western U.S. to utilize hazardous waste solids to generate steam resulting in the purification of industrial solvents that are returned to industry to be re-utilized.
Copies of our new AOCs can be found on our website in our Permits & License Center of our website.